The SR4S website has just been updated and is now available for instant translation in multi-languages to improve user experience. The content is now available in 5 languages: English, Spanish, Portuguese, French and Hindi.
To view the SR4S website in the appropriate language, go to the bottom right hand side of the page and hover over the word 'English' next to the flag. The language options will appear, and you can simply click on the language you would like.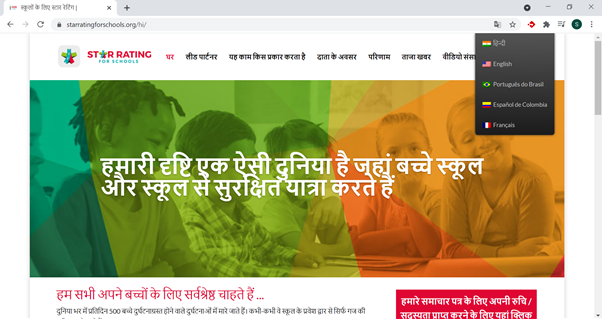 We are also happy to share that the SR4S Introduction Brochure and the SR4S Case Study Bogotá are now also available in Spanish. These and other resources are available in the new tab Useful Resources, in the SR4S Library. Here you can find SR4S materials in English and Spanish. Thanks to the support of the IDB, SR4S materials and guidelines are also being translated to Portuguese and will be soon available.