In 2014, the granddaughter of Nelson Mandela and global road safety campaigner, Zoleka Mandela led the launch of the first Safe Schools project in South Africa. The project introduced safe road infrastructure to project school children, along with road safety education and awareness for children and teachers from Takalani Sesame and Childsafe.
The initial iRAP assessment conducted with the City of Cape Town found that 77% of the roads around Sivile Primary School are in the highest-risk 1- and 2-star categories for pedestrians (read summary article from 2014).
Twelve months after the Safe Schools project launch, a safe crossing and traffic lights have been introduced at the Sivile Primary School (led by South African injury prevention NGO ChildSafe). This new road infrastructure now means, for the first time, 1150 school children of Sivile Primary School are now able to have a safer journey to and from school everyday.
Prior to this, more than 15% of children attending the school reported that they had suffered road traffic injuries and over 60% said that vehicles on the Jeff Masemola highway drove too fast, making it difficult for them to cross the road to reach the school.
One of iRAP's recommendation, assisted pro-bono by engineering firm Worley Parsons, was to introduce a signalised pedestrian crossing at Apollo Way, the main crossing point for the school children. The assessment calculated an improvement from 1-star rating to 3-star rating, and an 85% reduction in risk of road traffic injury to pedestrians crossing the Jeff Masemola at this point (as outlined in images below).
Information sourced from FIA Foundation Blog website – read the full article from the FIA Foundation here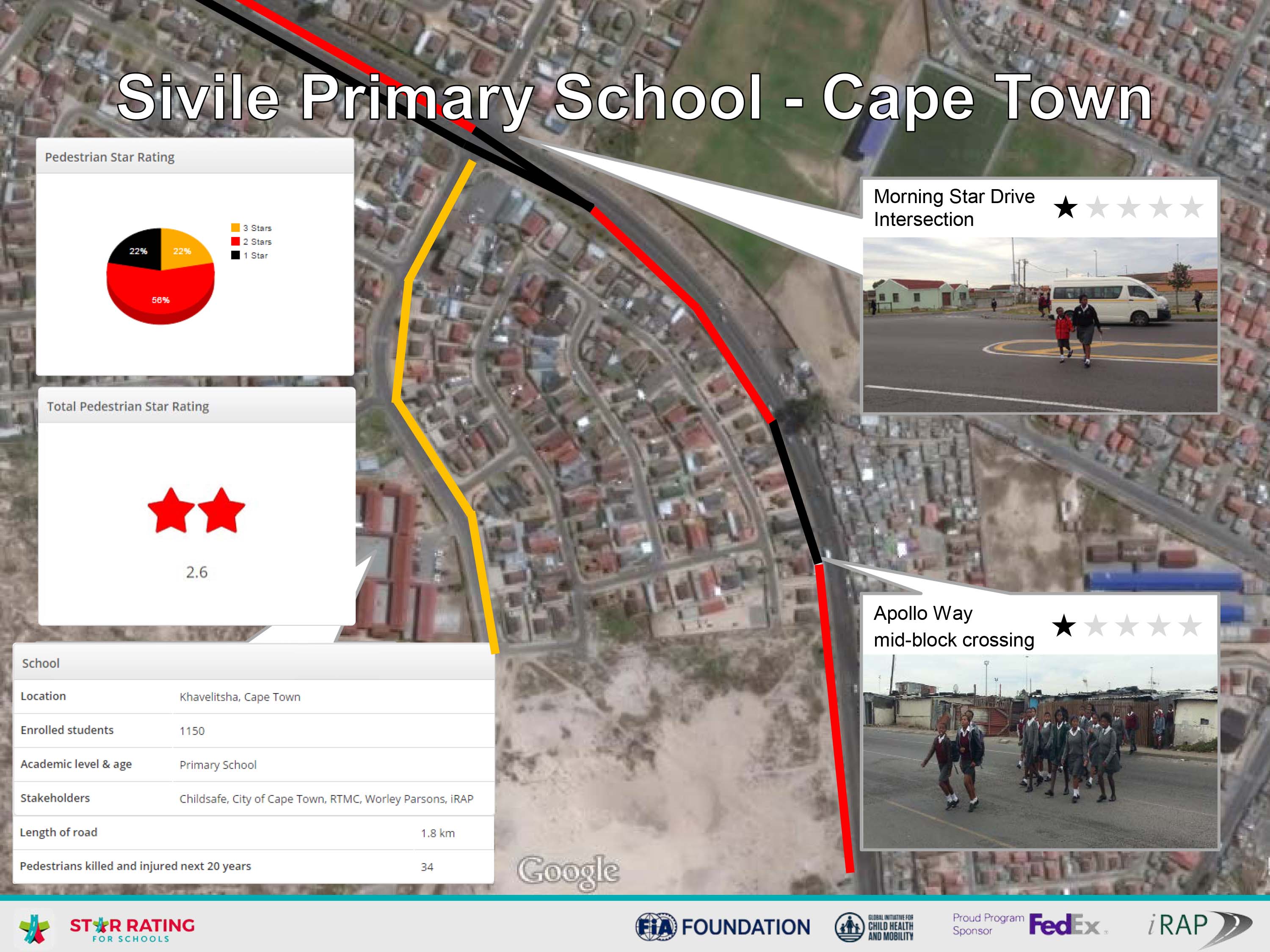 <iframe width="796" height="448" src="https://www.youtube.com/embed/JWGQW5gnF2k" frameborder="0" allow="accelerometer; autoplay; encrypted-media; gyroscope; picture-in-picture" allowfullscreen></iframe>