As part of our innovative Big Data road safety project, AI&Me: Empowering youth for safer roads, we are excited to launch the Youth Engagement App (YEA) pilot in Ho Chi Minh City, Pleiku City, and Yen Bai starting December 2022 to January 2023. The launch engages students from 18 project secondary schools and colleges in Vietnam on how to use the App.
Raise your voice: A Youth Engagement App for safer mobility
The YEA offers young people an efficient way to identify and report high-risk road conditions, providing them with a platform for their voices to be heard. Through the App, government officials will receive data as actionable recommendations to make effective and evidence-based road safety interventions. This will make it easier to identify blackspots for more in-depth analysis to determine the star ratings for school zones. Star Rating for Schools (SR4S) is an evidence-based tool for measuring, managing, and communicating the risks children are exposed to on a journey to school. It supports quick interventions that save lives and prevent serious injuries from day one.
AIP Foundation's three-year AI&Me: Empowering youth for safer roads program is supported by Fondation Botnar – a Swiss philanthropic foundation working to improve the health and wellbeing of young people living in cities around the world – as well as the FIA Foundation, Anditi, and the International Road Assessment Programme (iRAP). The Traffic Safety Committees and the Department of Education and Training of all three provinces support the launch of the App in their areas.
"Today is the day that students will take charge in ensuring that their cities are safe. The YEA puts young voices at the heart of solving the global road safety crisis," shares Hoang Na Huong, Deputy Chief Executive Officer at AIP Foundation.
Teachers empower students to raise their voices
Prior to the launch of the YEA, AIP Foundation hosted, together with iRAP and the Ministry of Transport (MOT) the first hands-on training of the YEA to key government stakeholders and teachers – in Ho Chi Minh City, Pleiku City, and Yen Bai. The main objective was to provide an introduction to the AI&Me programme as well as launch the YEA with instructions on how to use it and pass on the knowledge to their students.
The capacity-building course, conducted by the iRAP team, was the first milestone for teachers to be empowered and play an active role in providing training to 1800 students from 18 pilot schools to use the App. In turn, these students will raise their voices for safer #streetsforlife. It brings us closer to our vision of a world where all neighbourhood streets are liveable, safe, sustainable, and walkable.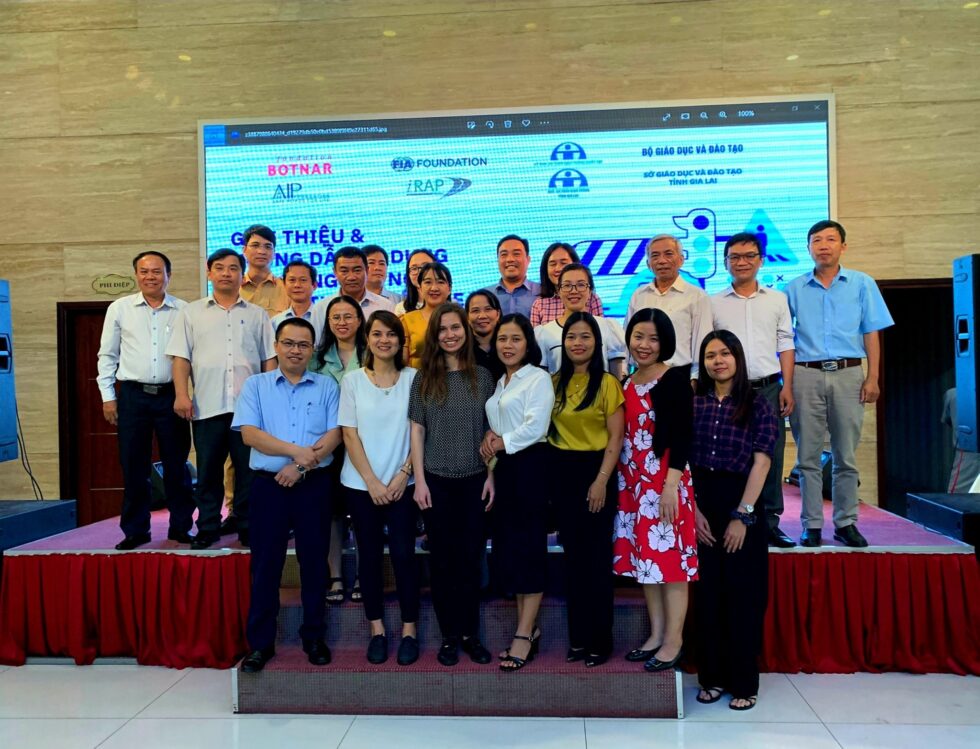 iRAP AI&Me Project Manager Shanna Lucchesi and Star Rating for Schools Global Coordinator Rafaela Machado with YEA Training participants
"The launch of the YEA will make a big difference for our next generation in Ho Chi Minh City, Pleiku and Yen Bai. Our future belongs to the youth, so we need to hear their voices to find the best solutions to the issues they face. We can only achieve safer streets across Vietnam if we work together," shares Colonel Pham Viet Cong, from the Deputy Office Chief of National Traffic Safety Committee.
AI for good: Using Big Data to save lives on the road in Vietnam
Road crashes are the leading cause of death for children and young adults aged 5-29 years globally. In Vietnam, the Institute for Health Metrics and Evaluation estimated that more than 6,200 children and youth aged 5-29 were killed in road crashes in 2019. This represents a public health crisis that disproportionately affects young people most. Road upgrades, speed management, as well as enforcement of behavioural risk factors are needed to effectively address this crisis.
The AI&Me project was launched and tested in Ho Chi Minh City, Gia Lai Province, and Yen Bai Province from August to March 2021, with the possibility of scaling up to other regions and countries following successful initial trials.
"I think that the YEA is a fantastic tool to create safer streets in my neighborhood. With the App, I can easily alert the local authorities and let them know where there is a danger. This App makes me feel safer. It also makes me feel like I am a part of the solution, which gives me the power to make an impact," shared Dang Phan* a local youth from Nguyen Hue High School at the launch event in Yen Bai.
In recent years, big data technology has been utilized to transform road safety through predictive analysis by evaluating historical data to pinpoint high-risk areas. These maps enable authorities to take preventative measures before casualties happen. The AI&Me programme revolutionizes road safety measures in Vietnam, paving the way for emerging technologies to address public health issues.
Useful links: 
Images credit: AIP Foundation