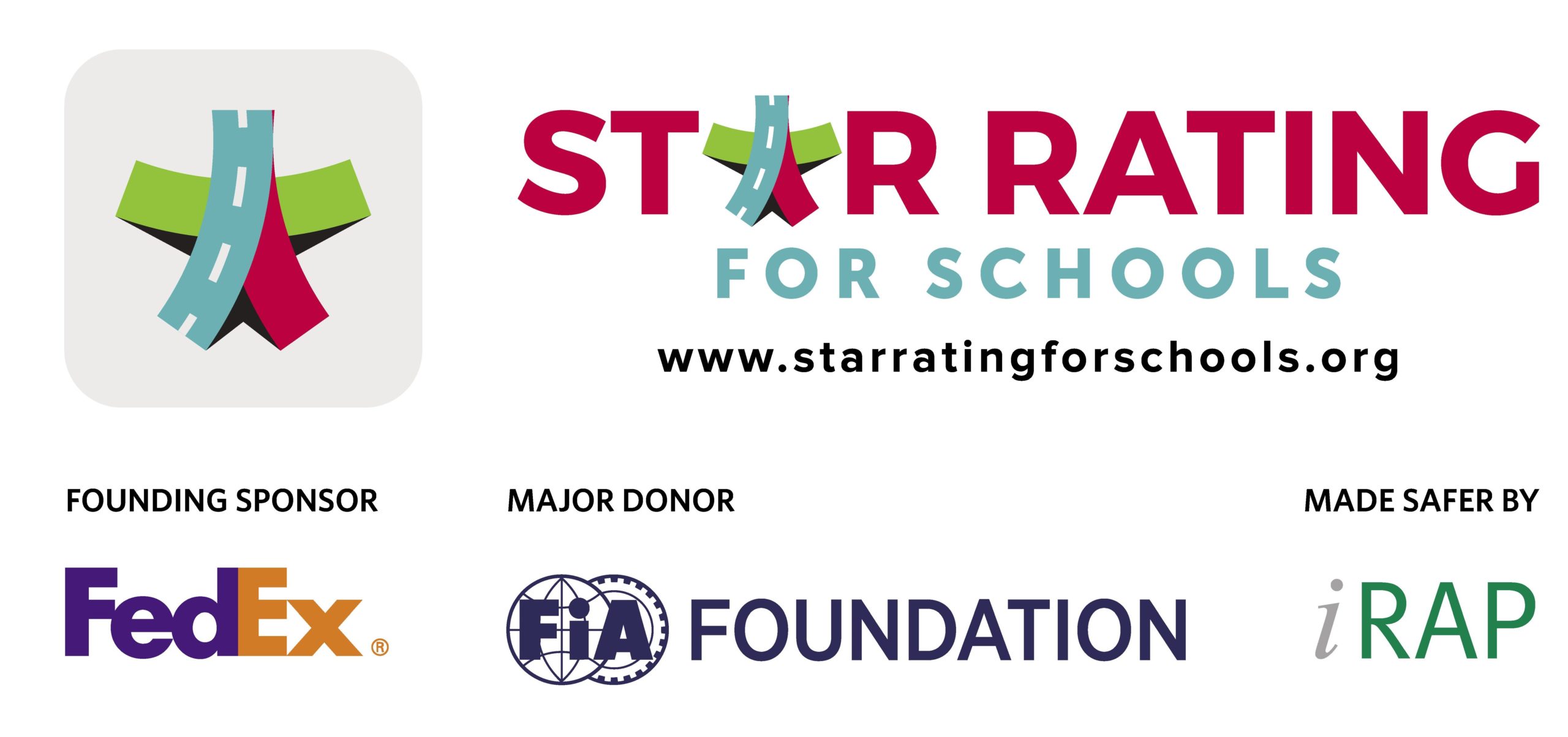 Global road safety application showcased ahead of Third Global Ministerial Meeting on Road Safety
17 FEBRUARY 2020
STOCKHOLM, SWEDEN: FedEx Express, a subsidiary of FedEx Corp., together with iRAP and FIA Foundation have today officially launched the road safety – Star Rating for Schools (SR4S) – to delegates and stakeholders gathered in Sweden for the Third Global Ministerial Conference on Road Safety this week.
Developed by iRAP with the support of FedEx as founding sponsor and the FIA Foundation as major donor, the SR4S application supports quick interventions that save lives and prevent serious injuries by measuring, managing and communicating the risk children are exposed to on a journey to school.
The app uses the already proven iRAP Star Rating methodology to assess the road features and traffic conditions known to affect safety. It provides an easy to use, systematic way of measuring the safety of a child's journey to school from 1 to 5 stars (5 being the safest) and provides an evidence base from which recommendations to improve road safety can be made.
SR4S Director, Julio Urzua, iRAP said: "Today's launch is the culmination of seven years of research, development and pilot studies around the world, where the application has already proven itself impactful in delivering improvements towards road safety. With the support of our NGO Lead Partners, we are ready to roll out SR4S in more than 1,000 schools around the world and anticipate a larger global demand for this life-saving tool. With the support of current and new donors we want to ensure the benefits of the SR4S app can be felt by as many children as possible."
Rock Sherman, Vice President Road Network Europe, FedEx Express said: "for school-aged children, with many preventable deaths occurring on a child's journey to school. We believe this application has an impressive capability to make every child's journey to school that little bit safer. For that reason, we're delighted to be able to support iRAP in showcasing the potential of this tool here in Sweden and open up global access to the SR4S application."
Saul Billingsley, Executive Director of FIA Foundation, said: "iRAP's SR4S system is a vital tool to make the case for effective infrastructure development, as well as the knowledge and expertise to support simple, easily understood and instantly impactful changes. Every day, millions of children risk their lives on the journey to school, on streets designed to prioritise traffic and speed. There is no time to waste: every child on every journey has the right to be protected and the SR4S system can support those protective measures."
The Star Rating for Schools application was officially launched during the Child Health Initiative 'This is My Street: Safe and Healthy Journeys for Children and Youth' Conference, an official pre-event of the Global Ministerial Conference on Road Safety.
The life-saving potential of the app has already been recognised, with iRAP being awarded the Prince Michael International Road Safety Award in 2018.
Download full media release here
-ENDS-
FedEx Express Europe
Kate Bowen, Senior Communications Specialist
e: kbowen@fedex.com
t: +44 (0)7967 182 608
Star Rating for Schools, iRAP
Julio Urzua, SR4S Director
Email:   julio.urzua@irap.org
Mob:     +56 99 5469063
FIA Foundation
Kate Turner, Media & Public Affairs Manager
Email:   k.turner@fiafoundation.org
Mob:     +44 787 989 3222
About FedEx
FedEx Corp. (NYSE: FDX) provides customers and businesses worldwide with a broad portfolio of transportation, e-commerce and business services. With annual revenues of $69 billion, the company offers integrated business solutions through operating companies competing collectively and managed collaboratively, under the respected FedEx brand. Consistently ranked among the world's most admired and trusted employers, FedEx inspires its more than 490,000 team members to remain focused on safety, the highest ethical and professional standards and the needs of their customers and communities. To learn more about how FedEx connects people and possibilities around the world, please visit about.fedex.com.  FedEx Cares is our global community engagement program and one way that we live out our purpose of connecting people and possibilities. Launched in 2019, FedEx Cares 50 by 50 is our goal to positively impact 50 million people around the world by our 50th anniversary in 2023.
About the FIA Foundation
The FIA Foundation is an independent UK registered charity which supports an international programme of activities promoting road safety, the environment and sustainable mobility. Our aim is to ensure 'Safe, Clean, Fair and Green' mobility for all, playing a part to ensure a sustainable future through:
promoting research, disseminating the results of research and providing information in any matters of public interest which include road safety, automobile technology, the protection and preservation of human life and public health, transport and public mobility and the protection of the environment;
and promoting improvement in the safety of motor sport, and of drivers, passengers, pedestrians and other road users which works globally to promote safe, clean fair and green mobility.
About the International Road Assessment Program (iRAP)
iRAP is a registered charity with the vision for a world free of high risk roads. The charity is active in over 100 countries and works with governments, development banks, mobility clubs, research organisations and road safety NGOs to provide them with the free tools, systems and training to make their roads safer. iRAP's Star Rating Methodology provides a simple and objective measure of the level of safety which is 'built-in' to the road for vehicle occupants, motorcyclists, bicyclists and pedestrians. A 1-star road is the least safe and a 5-star road is the safest. iRAP's Vaccines for Roads is a valuable online resource unlocking the potential of the world's largest road infrastructure safety database to explore the human and financial impact of road injury, how safe the world's roads are and provide the Business Case for Safer Roads.The charity has influenced the safety of over USD$76 billion dollars of infrastructure investment, has Star Rated over 1 million kms of roads and trained over 22,000 people globally. iRAP is the umbrella programme for regional road assessment programmes including EuroRAP, ChinaRAP, AusRAP, usRAP, KiwiRAP, IndiaRAP, BrazilRAP, South Africa RAP, ThaiRAP and MyRAP and is financially supported by the FIA Foundation, Global Road Safety Facility and FedEx.
http://www.irap.org/
About SR4S
Star Rating for Schools was launched at the Child Health Initiative "This is My Street: Safe and Healthy Journeys for Children and Youth" Conference in Stockholm.
SR4S and the Secretariat are supported by the International Road Assessment Programme (iRAP), a global road safety charity with sponsorship from FedEx and major donor contributions from the FIA Foundation.
SR4S is a technical tool and its application will be delivered through the Lead Partner network, world-leading NGO's involved in school road safety that have been involved in SR4S's development. These expert NGOs will support those organisations seeking to become delivery partners by undertaking the Star Rating of roads around a school and integrating the approach into their engagement with a school community.
AIP Foundation, Child Health Initiative, Eastern Alliance for Safe and Sustainable Transport (EASST), Federation Internationale de L'Automobile (FIA), Gonzalo Rodriguez Foundation, Global Alliance of NGOs for Road Safety, Global Road Safety Partnership (GRSP), International Road Federation (IRF), Safe Kids Worldwide, Youth for Road Safety (YOURS) and the World Resources Institute (WRI)
Governments, Road Safety NGOs, Corporations and local organizations focused on child safety and school road infrastructure can get involved by visiting starratingforschools.org.  Ways to make a positive difference include:
working with your local Education Department and Road Authority to assess and improve the Star Rating for Schools where you live or work
using the SR4S approach to demonstrate the safest route to school
advocating for 3-star or better journeys to school for all kids in support of the Global Road Safety Performance Targets agreed by World Health Organisation Member States
sponsoring a Lead Partner to develop a targeted programme of engagement, engineering and education for high-risk schools
using the SR4S tool to assess before and after road infrastructure improvements to quantify the safety gain linked to investment and to celebrate and ribbon-cut success (e.g. new 5-star crossings).
becoming a SR4S programme delivery partner
becoming a SR4S donor to support global action and
following the SR4S success stories by signing up to the newsletter